---
DINING OPTIONS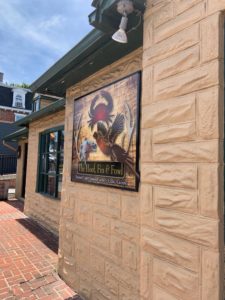 Every type of meal is within walking distance, from fast food to fine dining, including many family-friendly restaurants.
Rita's Italian Ice & Costard, Hoof Fin & Fowl, O'Rorke's Eatery and Spirits, Hunt's Battlefield Fries, Cottage Creperie, Kilwins, Tommy's Pizza and Bantam Coffee Roasters  are our neighbors and you can dine at two historic homes that survived the battle, The Dobbin House and The Farnsworth House (complete with bullet holes).  if you're looking for a relaxing time with some good wine, visit Buddy Boy Winery
Gettysburg Eddie's, Blessing's Restaurant,  Appalachian Brewery Company, and The Fourscore Beer Company are just a block away from our location.
The Blue and Gray Restaurant offer multiple flatscreen TV's to watch your favorite sports team any time!   The Pub & Restaurant, The Gettysburger Compnay, and Mama Ventura's Italian Restaurant are less than one mile from our hotel near the famous Lincoln Circle.
Finally, for some good eats just a short drive away, visit the Gettysburg Family Restaurant,  Panera Bread, and Starbucks Coffee near Walmart.