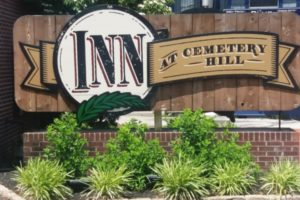 Are you looking for a change of pace and at the same time have the convenience to stay in the heart of Historic Gettysburg?  We humbly welcome you to our charming and eye-appealing, family-owned Inn at Cemetery Hill.
We are truly conveniently located right on the "Sweet Spot in the Middle", between Steinwehr Avenue and Baltimore Street.  Our two-story hotel features 51 non-smoking rooms with a favorable layout that allows you to request rooms with beautiful wood-look flooring or carpet. Some of our rooms have private balconies, porches, and first-floor private entrances.
We offer a pet-friendly environment at a $25-$30 nightly fee plus tax (ADA-defined service animals stay at no cost) and also have a pet-free building for those sensitive to pets. We have studio kitchenette rooms available for long term stays.
Please be aware, effective April 11, 2023 we have implemented a few changes to some of our policies.  We have now established an early check in fee of $25 plus 11% tax for guests arrivals before three o'clock in the afternoon with availability pending.  Our checkouts time is eleven o'clock  (11 A.M.), any late checkouts from eleven o'clock (A.M) to one o'clock (1 P.M.) in the afternoon will be charged $50 plus 11% tax and any later than one o'clock (P.M) will be charged a full night stay.  We are only allowing a maximum of four late checkouts per day.  Our Loyalty Reward members will continue to have a flat nightly pet fee of $20 plus 6% tax and are exempt for check in/out fees with availability pending.
Our courteous, efficient staff can accommodate any size group, whether you are visiting for a school trip, government/military event, historical tour, animal show, reunion, senior's trip, meeting, or wedding.  We are adjacent to the Gettysburg National Cemetery, Gettysburg Tour Center, Jenny Wade House and just minutes away from Gettysburg National Military Park, Museum and Visitor Center. The hotel is also easy access to Routes 15, 30, 34, 97 and 134.
Check in after 3:00 PM

Check out before 11:00 AM

Complimentary Simple American Breakfast

Free Wi-Fi internet connection

Guest laundry facilities

Kids 17 and under stay free with adult supervision

Free on-site parking (includes large vehicles)
Our Building Layout and Features:
Our warm, inviting curb appeal hotel's three buildings offer varied accommodations that help us fulfill each guest's or group's needs.  
Baltimore Street Main Building
The Baltimore Street building is our main entrance where our charming lobby and Front Desk staff greet and welcome our guests.  This is also where we have our complimentary simple American breakfast. The building is completely furnished with beautiful wood-look flooring that is perfectly maintained for guests that travel with their beloved pets.   Although it is our pet-friendly building our housekeepers ensure well-cleaned rooms for those sensitive to pets. The building's layout allows you to request first-floor private exterior entrances and balconies.   
Steinwehr Avenue Building
The Steinwehr Avenue building faces the avenue and has four beautiful, private first-floor street-view verandas, plus four first-floor verandas facing the back.  The second floor features two private street-view balconies and six additional rooms without balconies. All the rooms are pet free and have wall-to-wall carpet. The Steinwehr Avenue building does not have an elevator; therefore, if you need to have an elevator accessible we strongly suggest to reserve your room in our Baltimore Street main building.
The Village Suites Building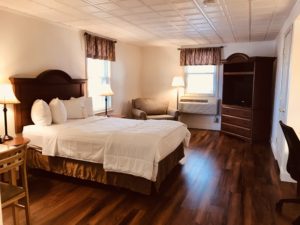 The Village Suites Building faces the National Park Cemetery.  These four efficiency suites are equipped for long-term stays and are not available to be booked online–for more information please visit our Extended Stay tab.